Adrenalin auto injectors (AAI): education and training in the community
Following diagnosis of a serious food allergy and where there is a risk of anaphylaxis, all those at risk should be encouraged to wear/carry some form of Medic Alert identification (e.g. engraved watch, wrist or neck band/ wallet ID card).
There should be a link between the Allergy Clinic and Community Health Staff to facilitate the making of an emergency plan for each child and to enable the parent to link with staff in the community to arrange training and follow up.
Training for parents, teenagers and carers should be arranged or provided by the AAI prescriber.
Training for carers, childcare staff, pre/primary/secondary school staff, sports and social club staff can be provided by parents.  Additional training might be provided by Health Professionals working in primary or community care and might include Area Medical Officers, your local Public Health department, Schools Health teams or Community Dietitians but is heavily dependant on local staffing, policy and resources.  Training can be requested by parents or staff and is usually held in the child's school.  It will last up to 1 hour.  Parents should attend as they will be able to provide specific information on their child's allergy and details of any previous reactions.
The aim of training is:
To empower parents, carers, school staff with knowledge on allergies and allergy avoidance
To enable them recognize and respond to anaphylaxis
To put in place an emergency plan for each child.
Arrangements should be made for each child to have an emergency pack containing their adrenalin autoinjectors and any other medication(s) that they may require.
This should be clearly labelled and stored in a safe but easily accessible location.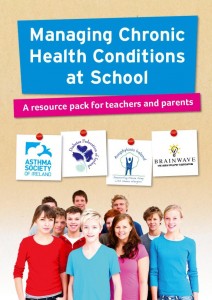 Trainer pens are made available during training session for participants to practice with.
Clarity regarding roles and responsibilities of parents and childcare/school staff is important (this is detailed in the resource pack for teachers and parents shown opposite and is available as a pdf to download here: "Managing Chronic Health Conditions at School")
Parents are responsible for ensuring that the medications are in date and it is good practice to check them at the beginning of each school term.
Training should be offered directly to teenagers, they're at higher risk of anaphylaxis. Workshops for parents and teenagers could be considered for this group.
There should be an individual plan in place tailored to the needs of the individual child, including. afterschool activities, sport, dancing, scouts, birthday parties, school tours, high risk times at school e.g. Halloween and Nature tables (nut allergy), cookery/messy food play (milk, egg and nut allergy).
A doctors letter will be required for airline travel to confirm that the child's need to carry their adrenaline autoinjectors with them on board.
The manufacturers of adrenaline autoinjectors have produced online video demonstrations and training materials on how to use them.(Anpen)(Emerade)(Epipen) (Jext).  Note Anapen presentation is changing from September 2014.